I hope everyone had a wonderful and Merry Christmas season this year. We went up to Fairmont and spent some time with family and friends soaking at the Hot Springs and then went to my parents house in Billings, MT where Rachelle and I got to go see Tron Legacy on a date night while the Grandparents watched Hazel.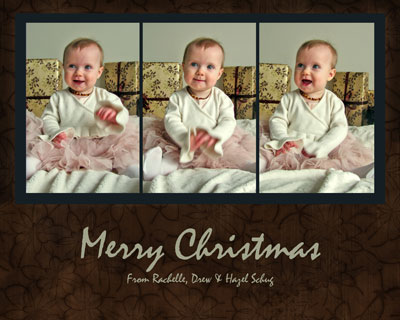 Overall 2010 has been a fantastic year for friends, family and clients – whom most if not all are included in the friends and family note above. We had Hazel, Rachelle and I got our marriage recognized by the church and I was able to do a little bit of fly fishing along the way. Hazel is now crawling and has cut a couple teeth. We are now looking at the next phase with crawling. Friends were right when they told me once you have one phase figured out, they switch it up on you. We are now in the process of baby-proofing the house to make sure we are kid-safe.
For 2011 I am looking forward to another year of exciting business and family opportunities. This year Rachelle and I are working ever so hard to achieve our dream of finally paying off our student loans. It's a small thing, but at the same time a large weight on our shoulders. I should also have some exciting business news later this year. Hazel is crawling, standing up and acting like she wants to walk already. She is amazes me every day and am so thankful for her and my beautiful wife.
New Year Resolutions are great. I started one in October that I am now doing a 40 day challenge, every 40 days. This was inspired by others online that I have seen and thought it was a great idea. The premise behind this is that "it takes 30 days of doing something consistently to build a habit". I liked the idea of 40 days, due to the biblical sense, not to mention that I think I need the extra 10 days as sometimes it doesn't sink in fully. We'll see how it goes but I am already on my 3rd challenge. First one was: No excess sweets for 40 days. Second one was to drink a liter of water every morning. And the third one which is proving to be the most difficult is to do 10 pushups and 10 sit-ups every day. I am currently taking ideas for my next 40 day challenge, so feel free to comment below or send me a note if you have an idea.
I hope that everyone has a Merry Christmas and the Happiest of New Years. Thank you to all of my clients and business partners for allowing me to serve you. You are truly a blessing and am thankful for all that you trust me with.
Merry, Merry
Drew Schug