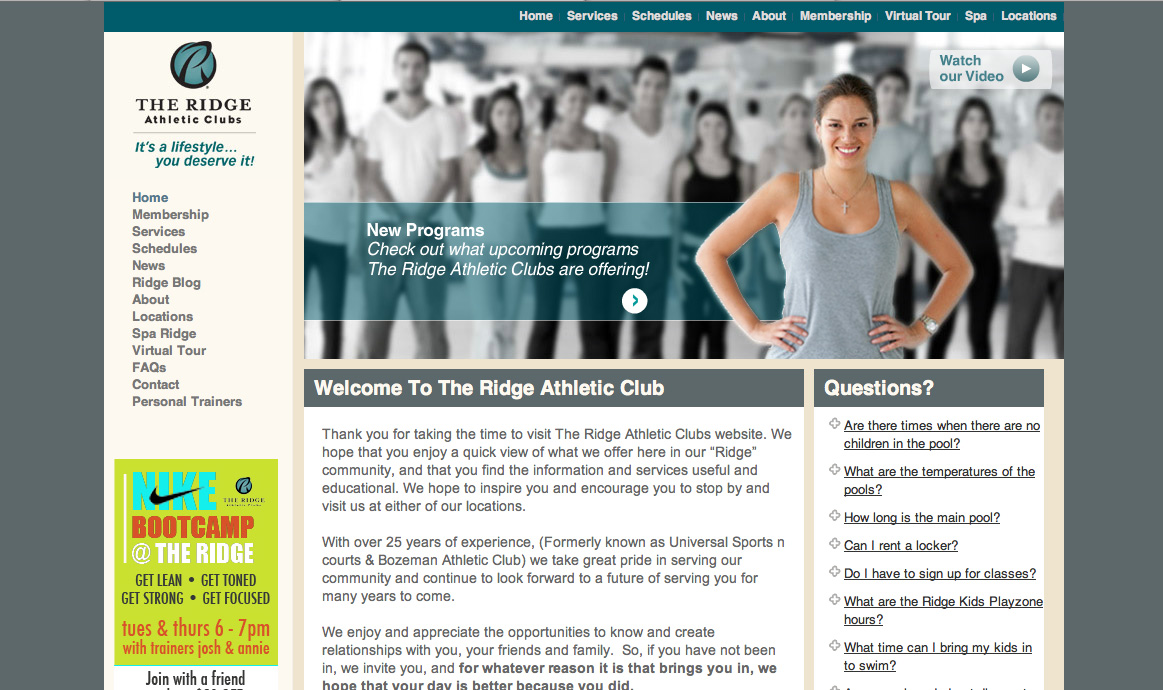 Web Design for a local athletic club / gym that helps meet the needs of existing members while being open and easy to navigate for potential members. Special thanks to Amy, Rayna and Christine for all there help on this great site for the Ridge Athletic Club in Bozeman, Montana.
Drew Schug focused on adding value to the Ridge Athletic Club  by designing a web  experience targeted two distinct personas 1) Existing members by presenting calendar, class schedules and 2) New members by supplying relevant information  in a more user-friendly, interesting format. We developed interactive features for the website that showcased the unique layout of the club, locations and delivered frequently asked questions directly to the members, which eliminated excess phone calls. We focused on simplicity and putting the navigation out in front of the website visitor rather than expecting them to sift and search for information. The website also offered distinct sections and experiences tailored to spa members and those looking for personal trainers, creating a more relevant user experience for each visitor. Finally, we strengthened the Ridge's community by building in the blog and consulted on social media strategies to increase the Ridge's message of creating a healthy lifestyle.
Since the re-launch of the Ridge Athletic website, visits, membership and site usage have all increased, while call volume and email questions have decreased. In addition the web site is consistently being measured and actionable, data driven ideas are generated for future improvements.
Additional Website Features:
Knowledge Base / Frequently Asked Questions Section: Help reduce call times for questions about the club. This helped reduce staff members phone and email time for responses and focus on helping customers in the facility instead.

Calendar System: Enables staff to add schedules and events easily.
Facility Walk-thru: Photos laid over floor plan showcases the club's assets
Web Video: Inspires new members, reinvigorates existing members and spreads easily via social media.
Search Engine Optimization: Easily findable for potential members and existing ones.
Google Analytics setup and tracking
To learn more about how we can help you with your next web development project, visit our Marketing Services page, or contact us today.